Lake Iseo
Welcome to Camping
Punta d'Oro
On the shores of Lake Iseo offers a unique panorama and direct access to the lake. Only a few minutes walk from the village center, it still retains a quiet and relaxing atmosphere.
The campsite is open until 15 October 2023.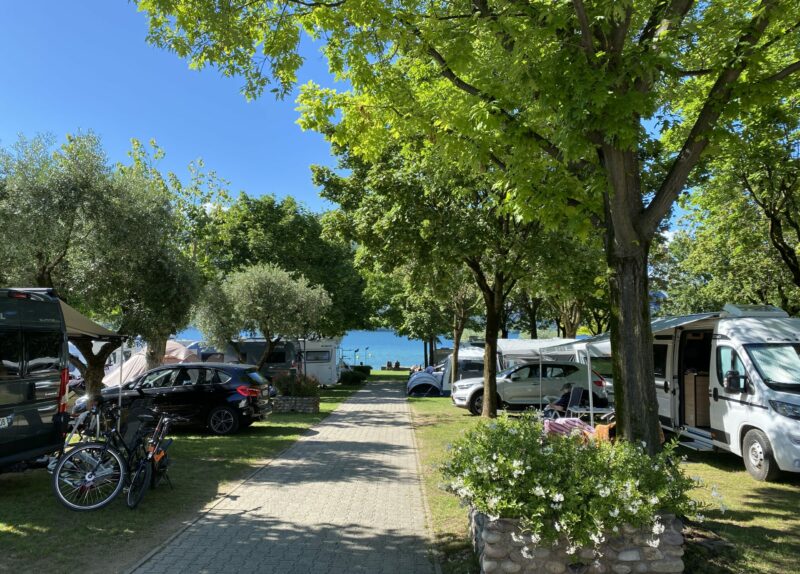 1 April - 15 October 2023
64 pitches, 16 directly on the lake, beach with showers, bar and shop, bikes, kayaks and SUP. We speak English.
Here you find the experiences of our guests or you can write your own opinion.
Holiday Home (open all year)
Apartment with garden, WIFI, two parking spaces and free entrance to the beach (in 300 m, from April until October).
Being active
Take your
time to explore the territory
Looking forward for your holidays ? Book now:
The opinions of our guests
Keith and Katherine Lindop
Exmoor, England
"What a superb campsite, we had an excellent stay. Not only is it fantastically well situated, on the lake and minutes from a lovely town, but the family are so welcoming and kind that it makes for a perfect atmosphere for those who want a relaxing, quiet break. The cleanliness is ***, every stray leaf removed and the toilet blocks cleaned to perfection. We loved our lakeside pitch, being able to watch the lake and mountains in all their many moods was wonderful. For wildlife watchers, it is ideal and for those who love good Italian food 2 great salumerie in town kept us well supplied. The English spoken is excellent and you kindly allowed us to practise our Italian which is a major part of what we enjoy, so thank you to the Brescianini family. The Franciacorta Brut is worth trying too!"
Facilities&services
The campsite offers ...
Discover the magic and beauty
of lake Iseo.